Top Chris Pratt Movies: Exploring the Best Films of Hollywood Star Chris Pratt
Chris Pratt has achieved fame with his awesome talent and undeniable charm. He has acted in many films, from exciting blockbusters to funny comedies. Let's have a look at his movie world!
Pratt began his career with the popular TV show "Parks and Recreation", where he was the silly yet affectionate Andy Dwyer. This performance opened the door for him to become a leading actor in movies.
One of his most famous roles was Peter Quill (Star-Lord) in Marvel's "Guardians of the Galaxy" in 2014. It showed his talent of mixing action with comedy.
In the sci-fi movies "Jurassic World", Pratt played Owen Grady, a capable dinosaur trainer in risky situations. The role confirmed his fame.
Surprisingly, Pratt trained for "Guardians of the Galaxy" by learning gymnastics. Men's Journal reported that he had daily workouts and a healthy diet.
Chris Pratt continues to create remarkable films for us to enjoy. Whether in action-packed superhero movies or humorous animations, we can always count on his films to be entertaining and unforgettable.
Chris Pratt's Early Career
Chris Pratt's rise to fame wasn't easy. Here's a closer look at his early career!
He debuted on TV with a role in the hit show "Everwood." His performance as Bright Abbott showed off his acting prowess.
His comedic chops shone when he starred as Andy Dwyer in the sitcom "Parks and Recreation." His lovable character was loved by fans everywhere.
Movies were next. He had supporting roles in films like "Wanted" and "Bride Wars." These helped him show his acting range.
He transformed himself into an action hero for his role as Peter Quill/Star-Lord in the Marvel blockbuster "Guardians of the Galaxy." This marked a big shift in his career.
He cemented his leading man status with roles in flicks like "Jurassic World" and "The Magnificent Seven." With his charm and talent, he quickly became an A-list star.
What separates Chris Pratt from other actors is his down-to-earth personality. His commitment and hard work have earned him success. Yet, he stays humble and is grateful for his opportunities.
To appreciate Chris Pratt's journey from sitcoms to blockbusters, watch him in action. Don't miss out on his evolution as an actor. Catch all of his movies and see his undeniable charm and talent!
Breakthrough Roles
Chris Pratt has made an incredible journey in the film industry. Through his various roles, he has gained fame and critical acclaim. Not just this, but these roles have also highlighted his versatility as an actor and established him as a Hollywood star!
For instance, in 2014's Guardians of the Galaxy, he played Peter Quill aka Star-Lord. His charismatic portrayal won him a lot of love from fans. Similarly, in Jurassic World (2015), Pratt starred as Owen Grady, a dinosaur handler. This movie was a huge success and strengthened his status as an action hero. The LEGO Movie (2014) was also a success, with Pratt's voice acting bringing out the depth and emotion in the character of Emmet Brickowski.
What sets these roles apart is not just their commercial success, but also their lasting impact on the audience. His charisma and charm create a connection with viewers that goes beyond simple entertainment.
To use these breakthrough roles to your advantage, here are some tips:
Embrace versatility. Like Chris Pratt, try out different characters and genres. Stepping out of your comfort zone can help you discover new talents.
Add your own personality to each role. This will make your performances more relatable and authentic.
Balance comedy and drama. Master the art of mixing the two. This will make you a well-rounded actor.
By taking these tips to heart and channeling Chris Pratt's breakthrough roles, you can unlock your own potential and make a lasting impact in the world of acting.
Critically Acclaimed Performances
Chris Pratt's acting has earned him recognition. Audiences and critics alike have praised his performances. He portrays characters with charisma and captures viewers' attention.
In 2014, Pratt shone in "Guardians of the Galaxy". Here, he played the lovable Star-Lord (Peter Quill). His portrayal of this witty character was a success with fans and critics.
In 2016, his performance in "Passengers" was highly acclaimed. He played Jim Preston, a passenger on a spacecraft who wakes up early. Pratt's portrayal of Jim's emotions and loneliness was praised.
Pratt has also shown his talent in dramatic roles. In 2013, he was in the romantic comedy "Her". He played Paul, a love interest for Scarlett Johansson's character, with sincerity.
Chris Pratt's rags-to-riches story is inspiring. Before becoming an actor, he worked odd jobs. He stripped and lived in a van. But, he persevered and achieved fame in the entertainment industry.
From blockbuster films to dramas, Chris Pratt is one of the most talented actors in Hollywood. His performances highlight his range and prove his ability to captivate audiences with each role.
Lesser-known Gems
Chris Pratt's career has lots of popular movies and critically acclaimed ones, but there are some undiscovered gems that deserve more attention. These lesser-known films display his skill and diversity, offering a different angle from his usual action-packed roles.
At the top of our list is "Take Me Home Tonight" (2011). A comedic coming-of-age story set in the '80s. Pratt plays Kyle Masterson brilliantly and hilariously, a delightful slacker on an unexpected night of events.
Delivery Man" (2013) is where Pratt plays Brett, best friend to Vince Vaughn's character. It is a heartwarming comedy following an underachiever who discovers he fathered 533 kids via sperm donation.
"10 Years" (2011) is another hidden gem with Pratt as Cully. It follows old schoolmates that reunite after a decade. This movie examines friendship and personal growth, Pratt displays his ability to bring characters to life.
"The Five-Year Engagement" (2012) stars Pratt as Alex Eilhauer, best friend to Jason Segel's character. This romantic comedy portrays the struggles of an engaged couple during their extended engagement.
"Moneyball" (2011) may not be known for Pratt, but his portrayal of Scott Hatteberg deserves recognition. It is a sports drama based on real-life events. Billy Beane (Brad Pitt) assembles a winning team with limited funds.
These little-known films in Chris Pratt's filmography give us the chance to appreciate his versatility even more. Each movie has something special and shows a different side of him. Don't miss out on these gems! Get into these lesser-known films and be astonished by his performances. Enjoy the laughter, heartfelt moments, and thought-provoking stories that make these movies precious. Uncover a new side to Chris Pratt and be taken aback by his acting skills.
Future Projects
Chris Pratt is an acclaimed actor, who has wowed viewers with his diverse performances. His prior movies have been remarkable, and anticipation for his future projects is high. Let's take a sneak peek at what this talented artist has in store for us in the years to come.
Guardians of the Galaxy Vol. 3: Pratt will re-appear as Peter Quill/Star-Lord in the third installment of this loved superhero franchise.
Jurassic World: Dominion: Followers of the Jurassic Park series will be thrilled to witness Pratt's return as Owen Grady in this adrenaline-filled dinosaur extravaganza.
The Tomorrow War: In this sci-fi thriller, he plays a soldier that's recruited to fight in a war against aliens that could destroy humanity's future.
Saigon Bodyguards: This upcoming action-comedy stars Pratt alongside Chinese star Wu Jing, and is sure to be a hilarious and thrilling ride.
Cowboy Ninja Viking: Based on a graphic novel, this film follows Pratt as a man with multiple personalities, who becomes an assassin with extraordinary powers.
Thor: Love and Thunder: Pratt will also make an appearance as Star-Lord in the much awaited fourth Thor movie.
Apart from these projects, there are other ventures Chris Pratt is reportedly thinking about for the future. His aim appears to be continuously trying different roles while pleasing his audience.
Now, here's an interesting fact about Chris Pratt's devotion to his craft. During the filming of Guardians of the Galaxy, he would often stay on set late in the day, just to perfect his dance moves for one particular scene. His hard work paid off, as his dancing became one of the most delightful moments in the film. This commitment not only shows Pratt's professionalism but also his desire to give exceptional performances for his audience's enjoyment.
Conclusion
The world of cinema has seen Chris Pratt's talent and versatility. From his breakout role in "Guardians of the Galaxy" to "Jurassic World", his on-screen presence is undeniable.
Pratt's remarkable ability to transform for each role he takes on has earned him critical acclaim. He gained weight for "Parks and Recreation" and bulked up for "Guardians of the Galaxy". His comedic timing and charisma show in movies like "The LEGO Movie" and "Passengers".
Pratt's positive attitude and down-to-earth personality have endeared him to fans. He uses his platform to spread messages of kindness and gratitude.
Look out for future projects from Chris Pratt. He'll be pushing boundaries and showcasing his versatility. His upcoming filmography promises exciting new roles.
Frequently Asked Questions
1. What are some popular Chris Pratt movies?
Some popular Chris Pratt movies include "Guardians of the Galaxy," "Jurassic World," "Avengers: Infinity War," "The LEGO Movie," and "Guardians of the Galaxy Vol. 2."
2. What genre of movies does Chris Pratt usually star in?
Chris Pratt has starred in a variety of genres, but he is best known for his roles in action-adventure films like "Jurassic World" and the Marvel Cinematic Universe movies.
3. Has Chris Pratt won any awards for his performances?
Yes, Chris Pratt has won several awards for his performances. He won the Teen Choice Award for Choice Movie Actor: Sci-Fi for his role in "Guardians of the Galaxy" and the MTV Movie & TV Award for Best Action Performance for "Jurassic World."
4. Is Chris Pratt involved in any upcoming movie projects?
Yes, Chris Pratt has several upcoming movie projects. He will reprise his role as Peter Quill/Star-Lord in the upcoming "Guardians of the Galaxy Vol. 3" and is set to star in the sci-fi action film "The Tomorrow War."
5. Does Chris Pratt do his own stunts in movies?
Chris Pratt is known for doing many of his own stunts in movies. However, for particularly dangerous or complex stunts, a stunt double may be used.
6. Did Chris Pratt have any previous acting experience before becoming a movie star?
Before becoming a movie star, Chris Pratt had some acting experience in television. He gained recognition for his role as Andy Dwyer on the TV show "Parks and Recreation" before transitioning to movies.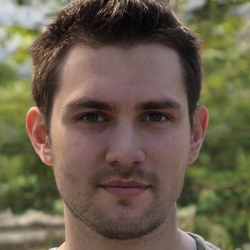 Latest posts by James Pithering
(see all)